Oh no! We may not fully support the browser or device software you are using !

To experience our site in the best way possible, please update your browser or device software, or move over to another browser.
Top 5 reasons to file your 2022 tax return early
Tax season can be a stressful time of year. However, if you qualify for a tax refund, it can be used to pay off bills and debt or add to your savings for a rainy day.
"For the past 40 years, Jackson Hewitt has advocated for hardworking Americans, and we know the current economy has impacted many. We understand people are worried about money and rising costs, along with the potential of receiving a lower tax refund this year, since all the pandemic government benefits have ended," said Kim Hudson, SVP and Chief Marketing Officer at Jackson Hewitt Tax Services. "Now more than ever, every dollar matters, so don't wait to file."
The Internal Revenue Service (IRS) is now accepting and processing 2022 tax returns. While you can wait until the April 18 deadline, here are five reasons you should file your tax return early.
1. Get your refund early
Some people put off filing because they don't believe they'll get a refund. However, according to the IRS, over two-thirds of American taxpayers are typically entitled to a refund. That means the earlier you file, the earlier you'll get your money and avoid processing delays.
2. More time to pay
A popular myth about filing taxes is that you must pay what you owe when you file. In fact, if you file early, you do not have to pay until the return due date of April 18 this year.
The benefit of filing early when you owe money to the IRS is that you will know what you owe in advance of the payment due date, giving you more time until April 18 to set aside those funds or spread the cost over the next few months, which means less financial stress.
3. Protect your personal information
Tax season is a busy time for fraudsters. With just a few pieces of your personal information (your name, birthday, and Social Security number), they can submit a fraudulent tax return to get your refund and steal your identity.
Many taxpayers won't realize their personal information has been compromised until they attempt to e-file their taxes and find that someone has beaten them to it. By filing early, you're locking your personal data and preventing scammers from stealing your refund and identity.
4. Reduce stress  
If you're rushing to get your taxes filed before the deadline and not organized, chances are you'll forget to include essential information and documents.
By preparing to file early, you'll have more time to gather your documents, review your tax return, and speak with your Tax Pro – helping you feel more confident and less stressed. If you wait until too close to the April deadline, you could make a mistake requiring the filing of an amended income tax return or subject yourself to paying penalties and interest.
5. You could double your refund
Do you want to double your tax refund? In honor of its 40th anniversary, Jackson Hewitt is hosting a Double Your Refund Sweepstakes this tax season. By submitting your taxes with the tax preparer before April 2, you'll be entered for a chance to win the equivalent of your federal tax refund.
During the sweepstakes, 40 winners will win a minimum of $1,500 and up to a $15,000 maximum match of their tax return refund, plus an additional 40 weekly runners-up will receive $400. You can mail in your entry or find an office near you to prepare your taxes for the chance to win big this tax season. To learn more, see details on Double Your Refund Sweepstakes.
There's no reason to wait until April 18 to file your taxes. Submit your tax return early and reap the financial rewards and peace of mind.

About the Author
Mark Steber is Senior Vice President and Chief Tax Information Officer for Jackson Hewitt. With over 30 years of experience, he oversees tax service delivery, quality assurance and tax law adherence. Mark is Jackson Hewitt's national spokesperson and liaison to the Internal Revenue Service and other government authorities. He is a Certified Public Accountant (CPA), holds registrations in Alabama and Georgia, and is an expert on consumer income taxes including electronic tax and tax data protection.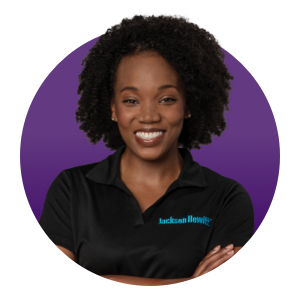 When every dollar matters, it matters who does your taxes™
WE SEE YOU

Our Tax Pros will connect with you one-on-one, answer all your questions, and always go the extra mile to support you.

WE GOT YOU

We have flexible hours, locations, and filing options that cater to every hardworking tax filer.

GUARANTEED

We've seen it all and will help you through it all. 40 years of experience and our guarantees back it up.