Oh no! We may not fully support the browser or device software you are using !

To experience our site in the best way possible, please update your browser or device software, or move over to another browser.
If you cannot pay your taxes, the IRS may put you in currently not collectible status ("CNC" or "Status 53"). What this means is that you cannot pay now, but you may be able to pay later.
The question for most who obtain this status is this: when will the IRS ask me to start paying again? In other words, does CNC last forever? The answer lies in how the IRS put you into CNC.
Individuals and hardship CNC
If you are an individual taxpayer (1040 filer), the IRS can put you in CNC for several reasons:
You provided (using Forms 433A or 433F) evidence to prove your expenses (basic living expenses as allowed by the IRS) are greater than your income
The IRS could not locate either you or your assets and "defaulted" you into CNC due to little or no collection potential
Let's look at situation #1: your documented living expenses given to the IRS are greater than your income. If the IRS eventually grants you CNC status (after you provide extensive documentation of your income, expenses and assets), it will be reviewed annually based on the income reported on your return or the total positive income or "TPI" reported to the IRS. TPI is the gross income amount you report on your return (not just taxable amounts) or the total positive income reported to the IRS under your SSN (if you did not file a return).
Hardship closing codes and your CNC status
The IRS will assign a hardship "closing code" to your CNC approval that will correspond to annual expenses that you provided to the IRS to meet your basic, allowable living costs. These closing codes are in $8,000 increments starting at $20,000 and ending in $84,000.
From the Internal Revenue Manual (IRS handbook for their operating procedures) for CNC: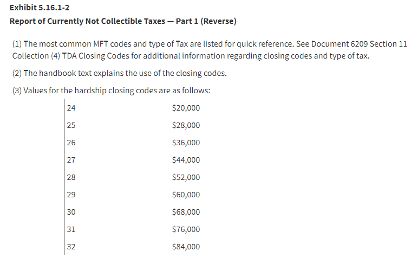 For example, if you were able to prove $39,000 a year in basic living expenses as allowed by IRS standards, do not have enough income to pay to your expenses, and no assets to pay the taxes owed, the IRS would put you in CNC with closing code "27." TPI would have to be above $44,000 meaning you would no longer qualify for CNC until your TPI is above $44,000. At that time, the IRS may kick you out of CNC status.
New balance owed and continuing CNC status
What if you are in CNC status and you file a tax return with a balance owed? The IRS may either remove you from CNC or roll the balance owed into CNC. IRS procedures allow taxpayers to stay in CNC if they have arranged for CNC in the last 12 months. However, if the new balance due significantly increases the amount owed, the IRS may inquire as to whether you still qualify for CNC. In practice, many taxpayers remind the IRS of a CNC determination made in the past 12 months to allow the current year to be wrapped into the CNC determination. Taxpayers who have obvious sources of new reportable income and assets should expect to be exited from CNC as the IRS usually reviews the new balance due tax return as well as new Forms W-2 and 1099 issued to the taxpayer.
Watch next year's income
If you are currently in CNC status, when will the IRS ask you to pay again? Likely when your income exceeds the reported expenses that you used to get into CNC. CNC may last forever if your financial situation does not improve. At the end of the IRS collection statute of limitations, the IRS will write off the balance owed.
Remember, the IRS does not always remove you from CNC if your TPI is greater than the closing code amount. The second filter the IRS uses is their resources. If they do not have the resources to collect, they may leave you in CNC for another year. How do you know? You must ask the IRS as to your status.
Do you have additional questions?
For assistance creating a strategy to address your tax issue, visit Jackson Hewitt's Tax Resolution Hub to see the various ways we can help you.
About the Author
Jim Buttonow, CPA, CITP, is the Senior Vice President for Post-Filing Tax Services at Jackson Hewitt. He's been a leader in helping taxpayers and tax professionals resolve tax problems with the IRS, where he had worked for 19 years in various compliance-enforcement positions. Prior to his current role, Jim's consulting practice focused on the areas of tax controversy and tax administration, which included leading product development on tax problem software for tax professionals, testifying before Congress, advocating for IRS transparency and efficiency, and proposing innovative large-scale solutions for taxpayers and tax professionals. Jim is also the author of Tax Problems and Solutions Handbook, a publication aimed at helping tax pros work more effectively in post-filing matters and resolving their clients' most common tax problems.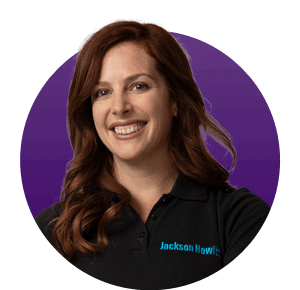 Why Jackson Hewitt?
WE SEE YOU

Our Tax Pros will connect with you one-on-one, answer all your questions, and always go the extra mile to support you.

WE GOT YOU

We have flexible hours, locations, and filing options that cater to every hardworking tax filer.

GUARANTEED

We've seen it all and will help you through it all. 35 years of experience and our guarantees back it up.