Oh no! We may not fully support the browser or device software you are using !

To experience our site in the best way possible, please update your browser or device software, or move over to another browser.
If you're getting letters from the IRS about your tax debt, you probably have a lot of questions about what to do next and how to handle paying the IRS. We have answers! Read on to learn more about your options and where you can turn for help when paying your back taxes.
The amount that the IRS says I owe on my taxes is wrong, what do I do?
As part of our 5 steps to getting your tax debt under control, make sure you understand what the IRS is saying you did wrong — from underpaying to making an error on your return, for example. If you've done your research and maybe even talked to the IRS, but still aren't sure you agree with or understand their decision, it may be time to bring in a tax resolution specialist. With their help, you can clarify the issue and then move forward to resolve it.
What are the penalties for not paying back taxes?
There are IRS penalties and interest for late payments as well as for late filings.
The late payment penalty is 0.5% per month or partial month that tax debt goes unpaid. The good news: this penalty can't exceed 25% of the total taxes owed. The bad news: The late filing penalty is worse. It applies to the balance of your unpaid taxes as of the filing deadline, usually April 15.
The late filing penalty is 5% for each month or part of a month that your tax return is late, with a maximum penalty of 25%. The clock starts at your tax deadline and the penalties accrue until you file.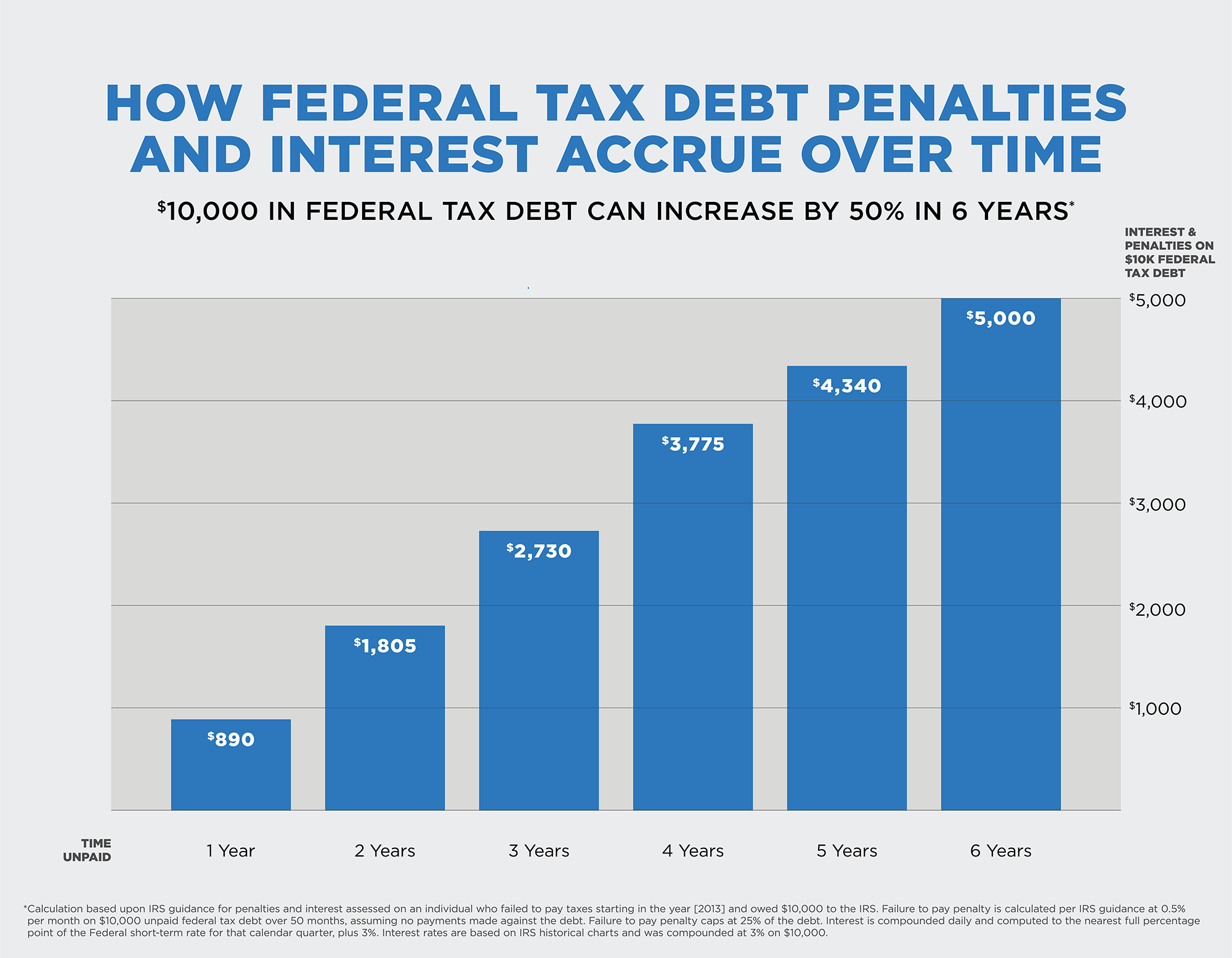 The more time that passes, the more you owe: If you fail to file within 60 days of the due date (including extensions), you'll owe $330 or a penalty equal to 100% of what you owe, whichever is less.
Interest is added to any unpaid tax from the time the payment was due until the date the tax is paid. Interest is calculated for each day your balance is not paid in full and is assessed on the amount of taxes due plus any late filing or late payment penalties.
Double whammy: If you file late (without requesting an extension) and you owe taxes, the maximum for the total associated penalties can be as high as 47.5% of the tax due—22.5% for late filing and 25% for late payment.
Can I file an extension if I owe back taxes?
Yes, but it won't affect your tax debt. Asking for an extension to file your taxes means you'll have six more months to prepare them. But if you owe money, the IRS immediately starts charging penalties and interest after the May 17 filing deadline. Even if you can't file on time, you should estimate what you owe and pay what you can right away.
Will the IRS forgive my tax debt after a certain amount of time?
The IRS rarely forgives debts and has 10 years to collect them before they are written off. The final date to collect is known as the Collection Statute Expiration Date (CSED). Usually, once that date is passed, the IRS has no choice but to forgo your debt. But beware, there are exceptions: The CSED can be extended through various means, such as entering into an installment agreement, having property seized, or entering a period of non-collectability.
Can I do anything about all those penalties?
The IRS does also offer relief for some penalties, including:
Failing to file a return
Failing to pay on time
Failing to deposit certain taxes as required
Other penalties (if applicable)
You could qualify for penalty relief if your circumstances fall into one of these categories. If the IRS denies your request for penalty relief, you can use this Penalty Appeal Online Tool to appeal their decision.
What about interest charge relief?
The IRS can't abate interest; the law requires it be charged and to continue to accrue until your account is fully paid. However, if any of your penalties or taxes are reduced, this will automatically reduce related interest.
Does the IRS offer payment plans for paying back taxes?
The simple answer is yes. For more details, see point two in our "What to do when you can't pay your taxes" article.
Is there a minimum monthly payment for an installment plan?
Your minimum monthly payment depends on what you owe. To a degree, you can choose what you want to pay every month when filling out the payment plan paperwork, depending on what you can afford. If you don't choose an amount, the IRS will set your payment at the total you owe divided by the number of months your plan will last, up to 72 months.
Would the IRS ever agree to let me pay less than what I owe in back taxes?
Yes, in certain circumstances. For more details, see point five in our "What to do when you can't pay your taxes" article.
Should I take out a personal loan to pay my back taxes?
A personal loan is one way to approach tax debt. You can borrow money from a private lender to pay the IRS – it's likely that the interest on the loan will be much lower than the interest and penalties the IRS charges. Then, all you have to do is make the monthly loan payments, without worrying if the IRS will garnish your wages, levy your bank account, or file a tax lien against your property.
Payment options for IRS back taxes
Can I pay my back taxes with a credit card?
The IRS accepts all major credit cards. The biggest downside is the card processing fees you'll be charged for the transaction. You'll pay nearly 2% of the transaction total on top of what you're already paying. Also, keep in mind your credit card's interest rate and how quickly you can pay off your balance.
What other ways can I pay the IRS?
The recommended payment method is Direct Pay via your bank account. In addition to debit and credit cards, the IRS also accepts payments with:
Digital wallet
Electronic Federal Tax Payment System (best for businesses or large payments; enrollment required)
Electronic funds withdrawal (during e-filing)
Same-day wire (bank fees may apply)
Check or money order
Cash (at a retail partner)
How do I get help with tax debt?
If you've looked at all your options but you're still feeling in over your head, Jackson Hewitt's Tax Resolution Services may be the answer. However you choose to proceed, be sure to take action today to lessen the consequences of your tax debt!

About the Author
Mark Steber is Senior Vice President and Chief Tax Information Officer for Jackson Hewitt. With over 30 years of experience, he oversees tax service delivery, quality assurance and tax law adherence. Mark is Jackson Hewitt's national spokesperson and liaison to the Internal Revenue Service and other government authorities. He is a Certified Public Accountant (CPA), holds registrations in Alabama and Georgia, and is an expert on consumer income taxes including electronic tax and tax data protection.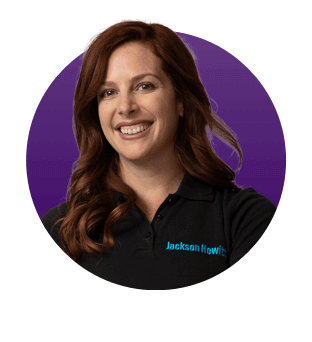 Why Jackson Hewitt®?
We see you
Our Tax Pros will connect with you one-on-one, answer all your questions, and always go the extra mile to support you.
We got you
We have flexible hours, locations, and filing options that cater to every hardworking tax filer.
GUARANTEED
We've seen it all and will help you through it all. 35 years of experience and our guarantees back it up.