Oh no! We may not fully support the browser or device software you are using !

To experience our site in the best way possible, please update your browser or device software, or move over to another browser.
CP2000
How to request CP2000 reconsideration from the IRS
If the IRS failed to consider your response to a Notice CP2000, you may be able to request a CP2000 reconsideration. These are the actions you can take to file a CP2000 reconsideration request.
If the IRS sends you a 90-day letter early, proposing or assessing taxes because of your CP2000 notice, you may be able to ask the IRS for CP2000 reconsideration. Reconsideration is common with CP2000 notices when the IRS assesses the tax without considering your response. This usually happens when the IRS runs out of time to review responses or when taxpayers fail to respond before the IRS automatically sends 90-day letters.
You'll know if the IRS hasn't considered your response if the next IRS letter you get proposes or assesses the same amount of tax as the original CP2000 notice you received and disregards your response without explanation.
Learn about actions you can take to get the IRS to reconsider your CP2000 response.
How to request CP2000 reconsideration
You can request CP2000 reconsideration after the IRS sends you a Statutory Notice of Deficiency (Notice CP3219A) or when the IRS assesses taxes on the CP2000 (IRS CP21E or CP22E notice).
Prepare the same response package you supplied for your original CP2000 notice.
Send your response to the same Automated Underreporter (AUR) unit that sent you the original CP2000 notice.
Write that the request is for CP2000 Reconsideration on your cover letter.
Include a copy of the IRS 90-day letter or assessment notice.
Watch your collection hold
After the IRS assesses the tax (CP21E or CP22E), the IRS will send you a bill and start to collect the tax. If you can't pay the tax, the IRS will send you collection letters to ask for payment or to set up an agreement to pay. Without payment or agreement, the IRS can eventually issue liens and levies to take your funds and other assets to pay the tax bill.
In situations where the IRS has assessed the CP2000 proposed tax, the IRS can proceed with collection. In these situations, you will need to submit a request for a collection hold along with your CP2000 reconsideration request. A collection hold means that the IRS will pause on collecting your tax bill while reviewing your request. Be sure to call the IRS to confirm that it put a hold on collection activity when you request CP2000 consideration.
CP2000 reconsideration can take four to eight months to complete. During that time, watch your account to make sure that your IRS collection hold stays in place. You may need to get multiple collection hold extensions.
There's a difference between appealing a CP2000 notice and requesting CP2000 reconsideration
Note that CP2000 reconsideration happens after the IRS begins to assess or assesses the tax. This is different from appealing to the IRS Independent Office of Appeals, which can occur after the first IRS decision about your CP2000 response. CP2000 reconsideration is the process to get the IRS to change its decision after it sends a 90-day letter or after it assesses the tax.
See How and When to Contest Your CP2000 Inquiry
Need help requesting CP2000 reconsideration from the IRS?
At Jackson Hewitt, we have 40 years of expertise to help you manage your tax issues. Whether simple or complex, our team of licensed professionals are trained to work directly with the IRS, while keeping you updated every step of the way. Start for free today and learn about how we can help resolve your tax issues.
About the Author
Jim Buttonow, CPA, CITP, is the Senior Vice President for Post-Filing Tax Services at Jackson Hewitt. He's been a leader in helping taxpayers and tax professionals resolve tax problems with the IRS, where he had worked for 19 years in various compliance-enforcement positions. Prior to his current role, Jim's consulting practice focused on the areas of tax controversy and tax administration, which included leading product development on tax problem software for tax professionals, testifying before Congress, advocating for IRS transparency and efficiency, and proposing innovative large-scale solutions for taxpayers and tax professionals. Jim is also the author of Tax Problems and Solutions Handbook, a publication aimed at helping tax pros work more effectively in post-filing matters and resolving their clients' most common tax problems.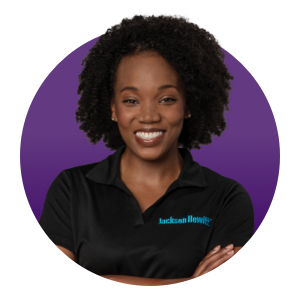 When every dollar matters, it matters who does your taxes™
WE SEE YOU

Our Tax Pros will connect with you one-on-one, answer all your questions, and always go the extra mile to support you.

WE GOT YOU

We have flexible hours, locations, and filing options that cater to every hardworking tax filer.

GUARANTEED

We've seen it all and will help you through it all. 40 years of experience and our guarantees back it up.