Oh no! We may not fully support the browser or device software you are using !

To experience our site in the best way possible, please update your browser or device software, or move over to another browser.
It's a terrible feeling. You've entered all of your information on your annual income tax return and find that you owe the Internal Revenue Service—and not just a little, but more than you can afford to pay. It's tempting to avoid the problem by not filing your return or not paying the tax bill, but that has consequences. If you aren't sure what to do about your tax bill or letters or notices from the IRS, start here.
What to do when you owe money to the IRS and can't afford to pay
Five ways to take action if you owe taxes and can't pay
Can't pay all your taxes? Pay what you can by April 15. Why? The IRS assesses a monthly penalty for failure to file a tax return, plus interest—in addition to penalties and interest on the taxes owed. Interest is compounded daily. Your bill can add up quickly and end up with the penalty being as much as 25% of your total taxes, plus the compounded interest. Paying a portion of your bill upfront will reduce the amount the IRS will charge over time.
Look into a payment plan if you can't pay your taxes. Why? If you know you'll eventually be able to pay your debt but just need a little more time, you may be eligible to set up an installment agreement on the IRS website (you can also apply over the phone, by mail, or in person using Form 9465—see below). The IRS offers short-term payment plans of 120 days or less, or long-term payment plans (more than 120 days).Tip: To save money on a long-term payment plan, apply online and set up automatic withdrawals from your checking account, also known as a Direct Debit Installment Agreement (DDIA).
Pay with a debit card instead of a credit card. Why? Once you have a plan in place to pay some or all of your taxes, you'll need to consider your method of payment. Different payment methods have different processing fees. To avoid processing fees, pay by check or from your bank account using the IRS Direct Pay method. The IRS charges processing fees if you pay with a debit or credit card. Debit card fees range from $2 to $3.95 per transaction, while credit card fees are

Consider a compromise. Tax Debt Settlement. Why? If you've experienced an unforeseen drop in income or have incurred high expenses related to catastrophic issues such as natural disasters or illness, you may qualify for a partial payment installment agreement, PPIA, or an offer in compromise, OIC. PPIA and OIC are agreements with the IRS that allow you to settle your bill for less than what you originally owed. There are very specific requirements for each, but if you think you might qualify, it's worth looking into. If paying your tax bill would mean that you could not afford basic living expenses, another option might be to request that the IRS classify your account as "currently not collectible." This does not erase any of your tax debt, but it delays attempts to collect it. Beware: this status doesn't stop penalties and interest from accruing—these will continue to accumulate until your bill is paid or your collection statute expiration date, CSED, is reached
Get some help. Why? Tax professionals can take a look at your specific situation, taking into account the various options available, and help you figure out the best way to handle your back taxes. With Jackson Hewitt, clients can receive a free consultation, and if you are not happy with the options provided during the discovery phase, you can get your money back, guaranteed.
Try to prevent future sticker shock when filing taxes by adjusting what your employer withholds from your paycheck. Ideally, your withholdings should be as close as possible to the actual tax amount due. Having a little more money withheld every pay period is usually more manageable than trying to pay a lump sum once a year.
To make changes to your withholdings, contact your human resources department. If you consistently owe money to the IRS every April, update your Form W-4. You can work through the worksheets in the form instructions or go to irs.gov and use the Withholding Calculator. You can also withhold an additional set amount every paycheck. Consider dividing what you owed this year by the number of pay periods and have that additional amount taken out on top of what you are already withholding.
For more tips on tackling tax debt, read on.

About the Author
Mark Steber is Senior Vice President and Chief Tax Information Officer for Jackson Hewitt. With over 30 years of experience, he oversees tax service delivery, quality assurance and tax law adherence. Mark is Jackson Hewitt's national spokesperson and liaison to the Internal Revenue Service and other government authorities. He is a Certified Public Accountant (CPA), holds registrations in Alabama and Georgia, and is an expert on consumer income taxes including electronic tax and tax data protection.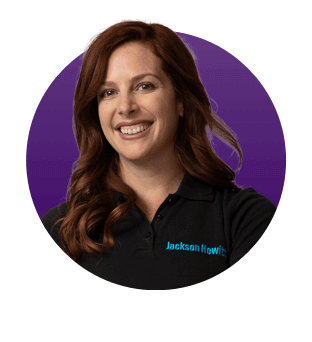 Why Jackson Hewitt®?
We see you
Our Tax Pros will connect with you one-on-one, answer all your questions, and always go the extra mile to support you.
We got you
We have flexible hours, locations, and filing options that cater to every hardworking tax filer.
GUARANTEED
We've seen it all and will help you through it all. 35 years of experience and our guarantees back it up.